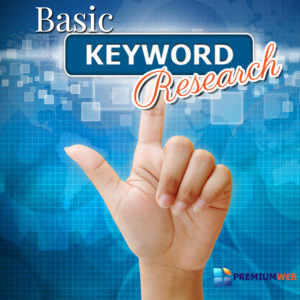 Basic keyword research is an important part of ensuring that you are creating enough evergreen content to attract traffic to your website and offers. Good content will ensure that you get traffic twenty-four hours a day. Not just any traffic. Keyword research will help you get targeted traffic from your ideal audience who is ready for the information that you provide. Plus, this audience will be interested in your paid offers whether it's a product or a service.
Success by Accident Versus Success on Purpose
The truth is, some people don't even look at keywords and are successful. But they're not successful because they don't research keywords, they're successful because they naturally use keywords that attract their audience and they got lucky. In business, you don't want to just get by on luck.
Because, if they tried to repeat the process with another niche, or even with the same audience and niche that has changed and not even a niche in which they're not part of the audience, they couldn't do it again.
Guessing, and going by the seat of your pants is not an effective way to run a business. You want to develop processes that help you succeed in a way that is duplicable. Keyword research is something you can conduct for any niche, at any time, to come up with better ideas.
Creating Success You Can Duplicate
Thankfully, if you just do some basic keyword research, you can become successful in any niche. The research is going to help you know if your audience is large enough. It's going to help you discover innovative ideas, thoughts, and trends. You'll also know whether you have enough interest to sell enough product to that niche to make a living.
Because of all these factors, keyword research is imperative to your continued success. Even if you've experienced accidental success so far, that will more than likely not continue. Keyword research will systematize your process for product creation, content creation, and content marketing.
In this report, you're going to learn why keyword research is important, how to find the right keywords for your needs, why and how to track keywords, how to uses the keywords and how to get started right now improving your content and products by using keyword research.
Why Is Keyword Research Important?
You've probably heard of keywords already. Keywords are words that your audience may use to seek out and find the solutions that you offer to them for their problems.
For example, if you're trying to learn about public speaking because you plan to get more involved with speaking in public at live niche events what terms would you search for to find the kind of information that you need?
Maybe you have public speaking anxiety, so you search for "How to Speak in Public with Anxiety" or something like that. Another person might just want to learn how to write a speech, in that case, they'll search for "How to Write a Persuasive Speech" so it does matter how specific your product is to how specific your search terms will be.
Your audience will go through the same process of searching for information about their problems to discover solutions to their problems.
Once they find solutions they'll probably start comparing them with others. Knowing the terms your audience uses, how they came to those terms, and what their fears are will help you tremendously as you conduct keyword research for your audience, then use those keywords to get results.
Keyword research will either confirm what you think you know, or it will shock you about what you don't know. But what is clear is that if you conduct keyword research it will be very effective in helping you get more targeted traffic, understand what your audience is looking for, and help you create an effective marketing plan.
Evergreen Traffic That Works for You 24/7
A fundamental aspect of search engine optimization (SEO) is the knowledge to include keywords on your website in certain spots. You will want keywords in titles, in headers, descriptions, and as part of the copy in the body of each message. Doing this will help search engines know where to send their audience who is searching for the keywords that you've chosen.
You Know What Your Audience Is Looking For
But, traffic isn't everything if you don't have a product that the audience wants. Keyword research also helps you learn exactly what your audience needs. What keeps them up at night? What problems do they have? What solutions are they looking to buy? That way you can develop products and services designed just for your audience.
You Can Create a More Effective Content Marketing Plan
In many ways, SEO is all about content marketing. To be really good at content marketing you need to also be really good at keyword research.  SEO is the technical way that you use keywords within the content you create for products as well as content marketing.
You need the right keywords to use in articles, blog posts, social updates, and to know what type of information products or services that you need to create for your audience. It's for this reason that people say that "content is king" but content without direction is content without SEO or keyword research.
Therefore, you really do need to do keyword research to come up with the right content and be able to create a more effective content marketing plan. Let's look into how to find keywords that work for your business.
How To Find Keywords That Work For Your Business
There are three reasons to conduct basic keyword research. To find out what your audience needs, to get ideas for content, and to get ideas for products and services. Then, once you have discovered the keywords you want to focus on, you'll use them in every aspect of your business from developing the menu items on your website to determining what to blog about, to product and service idea creation.
Know How Search Engines Work
It's important to understand how search engines work. Try some searches for things you care about to find out what happens. Learning how to use the search engines can help you know how your audience will use search engines to find you.
Understand the Types of Keywords
Seed keywords are those you use as a base for finding your best keyword phrases. Long-tail keywords are
Follow Your Customer's Journey
As you are searching for keywords get a picture in your mind about the customer's journey. All audiences follow the basics of research, consideration, purchase, and loyalty. If you can define where your audience is in their path to purchase and becoming a long-term customer then you can find keywords for each stage of their journey.
Know Who Your Audience Is
The very first thing you need to understand about your audience is what do they want and need? What problems do they have? What keeps them up at night? Plus of course typical demographics such as age, gender, disposable income, and where they like to get their news and information.
Some ways to find out more about your audience are:
Describing Your Ideal Target Audience Member – Just make it up at first who you think the audience member is. Use some knowledge that you already have surrounding this demographic to make it as realistic as possible.
Develop an Audience Avatar – Turn that description into something you can look at to easily get into the mind of your audience while you're brainstorming keywords.
Getting to Know the Terms They Use – When you can find them, you can then get to know the types of words they like to use to find what they're looking for or to discuss their problems.
Know What They Need – Understanding that your audience needs a computer is different than understanding why your audience needs a computer and what a computer can do for them. Go deep. They don't need a calendar, they need a life management system.
Conduct Surveys – When you know who that audience is, or may be, conduct surveys. You can run an advertisement to your survey using Facebook or Google Ads. Give away a freebie in exchange for filling out the survey. You'll accomplish learning more and build your list, at the same time.
Know Who Influences Your Audience – This is a key to finding out the most information without even talking to your audience yet. When you know who is influencing them, you can learn so much by just observing and watching.
Engage with Your Audience – When you truly find your audience, engage with them. Become part of the community. Don't start trying to promote and sell to them, instead, seek to glean information from them by being empathetic to their needs and desires.
Once you figure out your starting audience you'll be able to develop that further as time moves forward. Remember, even Dove's (soap) audience while they encompass the same demographics today as they did 20 years ago require totally different marketing, terms, and solutions than they did in the past. That's why continuously conducting audience research is so important.
Create Seed Terms to Get Started with Your Keyword Search
Take the time to get very clear about your target audience and how you can best serve them. Start with that research so that you can get yourself into their mindset and think about some of the key terms they might use to search for that information that they want to know.
Find Out Where Your Audience Goes – Where they hang out is important. What is the group name? What is the site name? What are they doing there? What do they talk about there?
Know What Publications They Read – This is another way to get into the head of your audience. If you can make a list of publications they read, then get those yourself you can come up with more ideas for keywords easier.
Know Their Demographics – When you're starting new you may make up "ideal demographics" to help you get started. But, once you start making sales and getting interaction you will be able to narrow down this information more.
Put a Name to Their Problems – As you get to know them put a name to their problems. What are their problems? Can you describe them in a short sentence? What words stand out to you in that description? Be creative about naming the problem. For example, your audience may indeed need a coloring book about birds, but why? Do they want relaxation? Do they want to learn more about birds? Do they want to learn more about specific birds? Why do they need it?
Know Which Solutions Exists – You should also understand the solutions that you have made for your audience, in terms of the benefits of those solutions, as well as you know the solutions your competition offers.
Study Your Competitors – You can use technology to study the keywords your competition is using to attract your audience. But, you can also learn how they change things and what is working and not working before you even try it.
Brainstorm Keyword Ideas – One way is to simply start writing down ideas for keywords based on the problems you want to solve for your audience and who you believe them to be.
Write down everything you have discovered by putting it into your spreadsheet. These first keywords are known as seed keywords. They may or may not lead you in the right direction. It depends on how well you know your audience on whether you can guess at some good keywords to help you get started. Remember, it's all about putting yourself in their shoes so that you can discover even more keywords.
Use Technology to Discover More Keywords
Now that you have your seed terms you'll want to use technology to help you get more information.
Use Google Search – Plug the terms you have come up with into Google Search one at a time. Then after you hit enter, look at the bottom of the page to find a list of related terms. and find related terms. In addition, notice the predictive search results as you're typing the search term into the search bar that shows up as well. You can go back and look if you put your cursor to the right of the term you inputted into the search bar. Make a note of all these terms to add to your list, throwing out terms that don't apply to your audience.
Use Amazon Search – A lot of people don't realize but Amazon is now a search engine too. Plug the search terms that you've discovered into Amazon search to find out what shows up. You will see related searches, books, products, and other information that can spark new keyword ideas, product ideas, and content ideas.
Google Keyword Planning Tool – In your Google AdWords dashboard, you'll find Google Keyword Tool. Use that to find other keywords as well. You can plug in some of your favorite ideas you've discovered so far to get even more ideas.
Ispionage.com – This is a paid competitor research tool that can be used to help you find the keywords your competition is using as well as how it's working for them. It's a fantastic way to improve your keyword searching as well as your use of the keywords you find.
Kwfinder.com – This is a simple keyword searching tool that you can plug in to search in many different languages and countries. When you conduct a search, you'll get a lot more ideas about ways the search term is already used, plus keyword suggestions. You can see what's trending and what's getting results too.
Keyword Explorer from Moz.com – This tool helps you prioritize keywords plus offers suggested keywords and keyword phrases. Plus, you'll get a list of articles and websites ranked by traffic which can help you come up with content ideas for using the keyword that will get better results.
SEMRush.com – This is known as an "all in one" tool to use to study keywords, your competition, or to just look at the results on your own website. Maybe you didn't start out using keywords purposefully, you can use this to find the keywords that are ranking on your site by imputing your URL.
Google Trends – This is an interesting way to search for more keywords. You can explore all sorts of trending information throughout the entire world starting in many categories with one of your seed words.
Sistrix.com – This SEO tool is often used by professionals who do SEO for a living. You can get a free trial right now, but you will have to enter your information to get started.
YouTube.com – This is also a great search engine to use. If you find information based on your seed keywords, you'll be able to develop more keywords based on what you find.
LongTailPro.com – This software doesn't just help you find the best long-tail money keywords for your business. It is also a way to find the most profitable keywords targeted to your audience in a specific niche. LongTailPro is the chosen keyword research tool that we use here on a day to day basis.
There are many other keyword tools. A quick search on Google will yield many options for you to try to develop a high-quality keyword list to help you create better content, products, and to get more traffic designed just for your ideal audience.
Listen to Your Audience to Find More Keywords
It's also very important to listen to your audience to find effective keywords. If you already have a mailing list, a Facebook Group, or other access to your target audience, the people you know are reading your content, buying your products, and using your services (or your competition's) then you have people to listen to.
Social Media – Pay attention to questions from your target market in groups, forum posts, and on your social media. It doesn't matter if it's a YouTube video comment, a Twitter thread, or on Facebook. Pay attention to discussions among your audience members to get ideas.
Webinars – Whether you host a webinar or attend webinars that your competition hosts if your audience is in attendance listen to the questions they ask. What gets them talking in the chat? What is important to them about the presentation you're watching?
Live Events – You may not realize it, but you can learn keywords from live events too. The trick is to go to live events that your audience attends. Listen more than you talk so that you can find out what is keeping them up at night. A good question to lead with when trying to get between presentation discussions going is, "Why did you come to this event?"
Email Questions – Keeping your email open for responses is another effective way to gather more information and keywords directly from your audience. When you send them any other information if you ask them what they think and give them permission to respond you'll get extra insight.
Blog Post Comments – Don't forget about blog post comments. If you're not getting very many comments but you know people are reading be sure to ask people to comment. Ask them directly on the blog post, ask them when you share the blog post. That way you can start a conversation that will help you get more insight and help your audience too.
Surveys – There are quite a few survey tools you can use to develop a survey for your audience. You can put the survey on your website, then market it to people who have already visited your site, your competition's site, or who have expressed interest in the topic.
When you reduce the comments and discussion down to searchable terms by checking the terms they state with Google Search or other Keyword Tools to find out what else comes up with that term you can get some inventive keywords that you may not have considered before.
How to Organize Your Keywords
As you develop your keyword list it's important to keep them organized. At first, as you find the keywords just add them to a spreadsheet. Basically, you're just going to create an extensive list. You want to start with a minimum of 100 keywords and keyword phrases, but you should keep building that list as time moves forward.
Put Keywords in a Spreadsheet – You can use MS Excel or even Google Sheets to organize your keywords. The important aspects of a spreadsheet are the ability to filter searches, label attributes, and delete duplicates.
Define Type of Keyword – Not only should you define the type of keyword it is, but how you found it. For example, if you find it due to a conversation it's a customer generated keyword. If you find it only on a keyword tool it's a technology generated keyword.
Delete Duplicate Keywords – You don't need to check for duplicates before adding them to your spreadsheet. That is a lot of work. Just add to your spreadsheet as you find keywords and occasionally filter out and delete the duplicates as they happen.
Determine High Volume / Low Volume Keywords – High volume keywords have a large search volume; low volume keywords have a low search volume. All low volume keywords aren't useless though so don't delete them, just label them. Low volume keywords are less expensive and can yield results too and may be preferable. High Volume keywords cost more so they may not always be the best choice.
Break into Different Attributes – Current Terms, future terms, potential products, high volume, low volume, intent (buying, non-buying), and other terms that don't fit these criteria. For example, a potential product keyword phrase will usually be a question that you can probably immediately turn into a blog post and offer a solution for that problem.
Determine the Value of The Keywords – You'll need to rank what you think the value of the keywords is based on how you find it, what it's relevancy is, what type of things show up when you search for it, how the keyword performs and a lot of other factors.
Once you organize them you'll be able to look at your keywords spreadsheet adding information as you get results so that you can improve everything you do with keywords. The great thing about a good spreadsheet is that you can adjust it, add more attributes and improve it as you go.
Ways to Apply the Keywords You Find
When you do keyword research once you pick some keywords that you want to try out, it's time to apply them. Remember, there are two types of search engine optimization (SEO). You have on-page SEO and off-page SEO.
On-Page SEO – Anytime you use keywords directly on your website whether it's a meta description, or a menu item, or content on a blog post that is "on page" SEO. So, anything you use on your website is on-page SEO.
Off-Page SEO – Now it makes sense that anything you do off your page is off-page SEO. So, if you use keywords in social media posts, within the content you post off your page, and so forth are all off page SEO.
So now that you know the difference you're going use both types of SEO to drive more traffic to your website, develop products and services, and convert more sales twenty-four hours a day. Because, the thing about good SEO is that it works for any niche, at any time.
Meta Description – Here you don't want to stuff keywords but use the keyword at least once within the first three words of the meta description. Make it user-friendly since it will be read by your audience and seen before they click through to see the results.
Menu Items – These are linked words that describe what is on the page the audience will click through. For example, "Portfolio" for a service provider is a common word to use to get their audience to look at examples of your work. But, you could also call it "Examples of My Work."
Blog Posts – There are several places for keywords and keyword phrases within any given blog post. The title, the headings, the meta description, in-content links, and so forth are all place for various keywords and keyword phrases.
Page Title – Use the main keyword you want to be found from by using that keyword phrase in the title. This is the name of the page basically. Even if you're writing a blog post realize that each blog post is a new page on your website and should have a unique name.
The URL – The URL that your audience goes to whether it's to grab a freebie, read a blog post, or go to a sales page is important. It's an ideal place to put a keyword phrase that describes what the audience will see when they click through.
H1 Tag – This is a header tag. Header tags are important to use on your site instead of simply just bolding or changing the size of the text. If you're using WordPress to create your site, you just highlight the header then choose H1 or H2. These headers should be a keyword that describes the content below it.
Body Content – Naturally, you'll want to use some keyword phrases within the body of the text. But, try not to have over 2 percent keyword saturation within the content or it may start to look strange to the viewer and the search engines will believe it's overstuffed. Try putting a keyword phrase that's a variation on each bullet for each paragraph.
Anchor Text – This is the type of text that shows up in menus, as well as within content. It's simply text that is linked to another area within the same page usually. These work best if they're keywords that describe what type of content they will be taken to.
In-Content Links – A fitting example of this is when you add freebies for your audience within the content that you're creating. So, you may have a blog post about Widgets, but you have a freebie about how to use widgets that go further than what you're covering. Use a good keyword phrase to describe it to link to it.
Image Tag – This is one of the most misused portions of a website. You can improve search results simply by naming your image with keywords that are appropriate for the image plus using the image tag to describe the image using keywords that might be searched to find this content.
As you use the keywords on your website it's important to vary the keyword. Vary the keyword phrases that you use throughout the page. This makes the page much more natural to the reader and it gives you more phrases to rank for.
Know the Goals for Each Keyword You Use
When you start implementing using keywords it's imperative that you know what the goals are for the keywords as you use them. What do you hope to accomplish? Do you want to get more traffic, answer a burning question, provide more knowledge, or do you want to sell your product?
While it's understandable that you want to sell more product, each time you use a keyword that may not be the main goal of using it. You may have goals that lead to more sales, but that build up knowledge in your audience with the content you use so that you can build trust and authority with them first.
Potential Goals for Keywords
When you've picked your keywords now you must come up with some goals for each keyword. Here are some potential goals that you might want to achieve with the keywords.
Lead Generation / List Building – For lead generation, you'll need create "how to" content, create testimonial pages, improve your "about us" page, develop content upgrades, and so forth.
New Traffic – This is an effective way to use for high volume and trending keywords. While you will get more traffic, it will cost a bit more if you buy ads using those keywords. But there is no reason you can't use those keywords in the content on your site. Articles, list blog posts, infographics, free tools, are all promising ideas for traffic-generating
Returning Traffic – You might want to use more in-depth content to remarket your site to people who have already visited using retargeting ads on Facebook or Google. A good place to reuse a webinar too.
Product Sales – Whether they're user reviews, product pages with descriptions, or right on an e-commerce page using keywords to generate product sales works. Usually, these will include transactional keywords and long tail keyword phrases.
Developing External Links – Do you want to get more external links to your page, you may want to use guest blog posts, social media posts, articles on LinkedIn, and other places. This is a good place to use high volume keywords as well as long tail keywords in the form of questions for your content.
Developing Internal Links – Even internal linking requires some thought as to the keywords you're going to use for the anchor text. If you want your readers to click through you need to make it appear interesting enough without tricking them. Using questions helps.
Match a goal to each keyword or keyword phrase that you've discovered so that when you use them you'll know what to measure. Measuring is the only way to know for sure if your ideas are working. You can't measure if you don't have a numerical goal. When you make your goals be very specific so that you have something to measure.
For example, if your goal is to build your list, state that you want to build the list by 1000 members within a specific period so that you can check the numbers to see if you accomplished your goal. If you succeed that's great, if you don't, you should be able to determine why. It's possible the goal was too difficult, but it's also possible you didn't follow up enough.
Determining How Effective Your Keywords Are
When you discover keywords, your work is not over. Like most things you need to know what your goal was, analyze where you are, know where you've been, and understand where you're going to determine success.
Now, you want to determine how effective your keywords choices are. After all, tracking and measuring are part of any successful marketing solution. You try something, or two somethings, using A/B testing, then you determine what if anything worked, and what worked best.
It's all about making a goal, trying the steps you created to reach the goal, then determining if it worked or not.
Let's get deeper into this process.
Why Tracking Keywords is Important – If you don't know if a keyword is working, then you can't know if anything is working. Knowing why a page is ranking well, converting well, and engaging your audience is as important as creating it in the first place because then it makes it possible to duplicate.
ROI of Keyword Research and Content Marketing – When you know what works, and why, you can easily determine your return on investment. It might be a monetary investment or a time investment depending on how you run your business but it's an investment that you want to know whether it's paying off or not. Tracking and measuring is the only way to do that.
Using a Spreadsheet – The whole reason to use a spreadsheet is the ease at which you can add additional attributes and information to the fields. Then you can truly get organized about your keywords. It'll be easier to create content around them, including products, and more.  Plus, your spreadsheet will work through time to help you keep analyzing the results of what you do.
Using Google Analytics – This is an effective way to track traffic for each keyword, keyword phrase, and a piece of content. If something is ranking very well, you'll want to create more of that type of content using variations of the keyword phrase. Plus, you can add content upgrades, and even paid products to popular pages.
Know Your Purpose – When you're trying to determine how effective a post is, it's imperative that you also know why you created the post. Did you create it to grow your list, create engagement, sell a product, or something else? Using analytics, are you reaching your goals?
Know How You'll Measure Success – When you set a goal for the activities you do, such as writing a blog post, setting up in-content giveaways, or even setting up a sales page for a product it's imperative to know what means success to you first, and how you can measure that success. If you don't have the right tools to determine success and why success happened it will be harder to repeat.
Know How You Will Track Success – You have your spreadsheet but remember that each platform you use, including your website, has internal reporting features. Figure out which are most important. You only need to look at the success metrics, everything else is extraneous information that you don't need.
Do You Have More Money in The Bank? – That's a great test. If you're making more money right now than you were before you started you're doing great. But you still want to find out why.
As you learn to track and measure the success you're experiencing with spreadsheets, analytic reports, and so forth you'll be able to come up with a plan to do more of what works and less of what isn't working which is going to increase your effectiveness in amazing ways that you may not have even considered yet.
Conclusion
Now that you know why you need keyword research, how to conduct keyword research, and how to measure your results it's time to get started. The following steps are distilled for you to use as a checklist.
Identify Your Audience – Who are they, where are they, and what do they need?
Identify Your Products/Solutions – Who creates products for this audience? Can you create a product or service based on the information you've discovered?
Brainstorm Seed Keywords – Just write down the keywords you think you'd use to find the information mentioned above.
Use Technology to Use Expand on Seed Keywords – Google Keyword Tool and others provide you the ability to generate even more keywords and keyword phrases so that you can dig deeper to find your ideal audience and provide them exactly what they need.
Organize Your Keywords – Using a spreadsheet in MS Office or on Google, list all your keywords and organize them according to specific attributes such as high volume versus low volume keywords.
Assign Goals to Keywords – Right on the spreadsheet, you can determine what you'll do with different keywords. Will that be a good keyword to use for product development, building your list, getting more traffic, or making a sale?
Generate Content for Keywords – The keywords, if nothing else, are going to give you many content ideas. It's important to track where you put the content. Once it's created put a link to it in the spreadsheet.
Optimize Your Website for Keywords – As you learn more keywords for your products and services you can go to your current website and improve it. Change menu item terms, improve the meta description, and other links.
Optimize Your Social Media for Keywords – Keywords aren't just for your website, you can also use them to improve your social media profiles and presence.
Create New Products / Solutions for Keywords – Sometimes you'll find a keyword that is formed as a question. When you do, that is a huge opportunity to potentially develop a new product or solution.
Analyse Your Results – Using analytics software both native and non-native is a terrific way to ensure that you're getting specific results for a specific reason. You cannot know if you don't check. You can make assumptions that are very wrong.
Perfect Your Content – Use the keywords that you find to make your content better. Whether the content is a blog post, a description, your "about me" page or a guest post doesn't matter, using the keywords will make it better.
Repeat More of What is Working – Use analytics to do more of what is working. For example, if you determine a specific blog post is knocking it out of the park due to a keyword phrase, vary that phrase and expand on the subject in a new blog post.
Drop Things That Aren't Working – Did an idea not work at all? If you find that you tried things that did not work the way you expected that's okay don't toss it right away, see if you can improve it, but if not drop it and move on to what works.
Remember, the value of going through the keyword research process is probably not completely measurable. After all, some people experience success before they even start trying to research and use keywords strategically. But, that doesn't mean the success will continue.
When you do keyword research, organizing, implementing, and analyzing you'll begin to be able to predict success and each campaign you run from then on out will be more successful as you perfect the process for your niche and your needs.
Local SEO for Multi-Location Providers