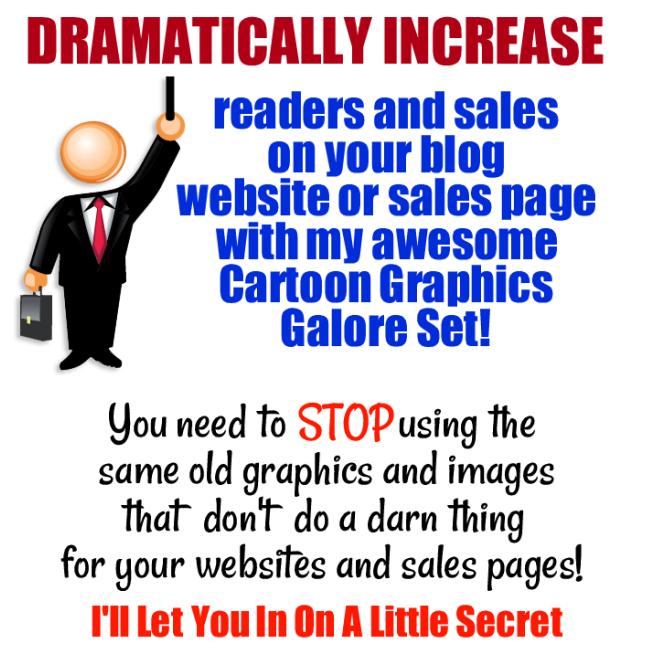 Dear online business owners and bloggers, did you know that market research suggests that cartoon images are more eye-catching than any other type of images?
If you want to make your business blog, website or sales page grab the readers attention, then using cartoon illustrations would be the best way to do just that!
It is common knowledge that graphics are an important part of your content. We all look at them; that includes YOUR readers and customers. That is just a given.
With that said, cartoon images could be

your ticket to attract more visitors

, who in turn, will

buy your products or services

.
Cartoon images have the unique ability to get your message across, much faster than words alone. You can even develop your brand.

This is important

, because if people remember you, it leads to more earnings for your business.

From May 5th through May 15th, I will be offering you my exclusive collection of cartoon web graphics including power words and phrases that have been proven to convert. You can use them together on your websites, blogs, sales pages or any type of marketing platform you are currently using.
Here are just some of the images and phrases that are included in my Cartoon Graphics Galore collection: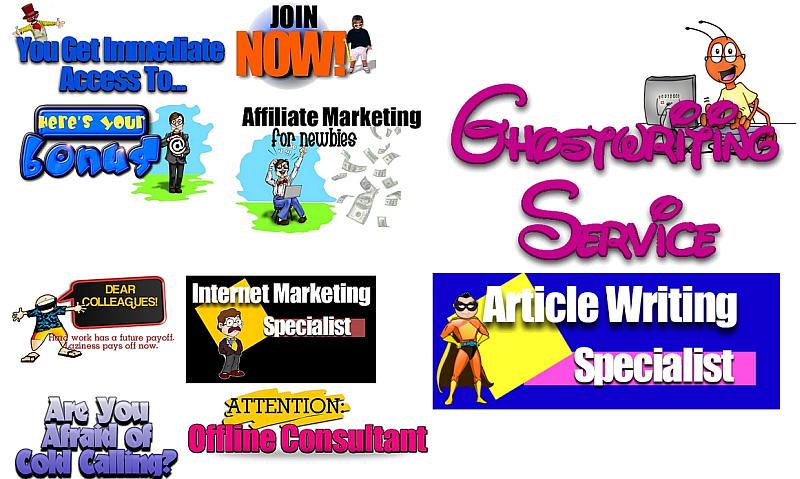 When you purchase this web graphics collection in the next 10 days, you will get totally unique and interesting graphics that are sure to make your readers take action like Click the buy button.
This stunning graphics collection will help you get away from the boring images you normally use and start using awesome images that have power phrases that really give readers a call to action. They will want to:
–>

Click the buy button.
–>

Opt in to your mail list.
–> Purchase a service.
–>

View your video.
–>

Buy your product.
Again, here is what you will receive in an automatic download…
*

Over one-hundred power words and phrase that are promoted with cool cartoon characters.

*

Almost all the graphics can be used for niches and Internet Marketing sites and pages.

*

There are several different adaptations of each phrase using different colors and graphics.

*

You get a choice between PNG transparent and JPG format. Use the one that is a good fit for your site.

*

The power phrases are unique and fresh, no over-used phrasing here.

With this graphics collection you can choose the power phrase, insert them into your blog, sales page, emails, newsletters and even your digital downloadable products; and that is just the tip of the iceberg. Just plug them in and you are good to go! How easy is that?
Is this worth $5.00 to you?
If you have been online and doing business for awhile, you know how much good quality graphics can cost. Yearly, monthly and by the image subscriptions are costly and can really take a chunk out of your budget, especially if you have a big project.
This is your lucky day!
If you want to increase your sales or mailing list, then you really need to grab this collection of over one-hundred cartoon graphics with power phrases for the awesome price of

$5.00

.
Get this Awesome Cartoon Graphics Galore collection now! Just click the buy button and you will be seconds away from your instant download. You could have great looking, unique graphics on your site immediately.
This is a
special price for the May Madness Sale

, which ends May 15th. The price will go up after that date, so get it now for this ridiculously low price, before time runs out!
Once Again, Here Is What You Will Get:
Immediate download of over one-hundred power phrase that sell!
If you are a serious online business person then you know how valuable this cartoon graphics package is. The small cost of this product during the May Madness sale, makes this a "
must have

" purchase.
Yes! I want to start making more money today. Give me the Cartoon Graphics Galore package as an instant download right away.
Local SEO for Multi-Location Providers