Once you start blogging, you quickly realize it's an awesome tool for communicating with your current clients as well as prospects. It allows people to get to know you. Relationship-building becomes much easier when you are blogging on a regular basis.
While blogging can certainly be lots of fun, it can also be quite profitable.
Here are just a few ways you can monetize your content:
Advertising Revenue – Whether you choose to sell ad space on your blog (and a blog with high traffic numbers will definitely be able to capitalize on this) you can also participate in AdSense or other PPC campaigns and make money from clicks.
Affiliate Revenue – Blog owners can publish affiliate banner ads, text ads and of course you can write great content with internal affiliate links to generate income through affiliate marketing. In fact, many affiliate marketers use their blogs to do this exact thing.
Product Promotion – Finally, you can promote your own products or services on your blog. Just remember to keep it balanced. About 80% of your blog content should be valuable information and about 20% of it can be promotional. (This is also a great guideline to use when mailing your email lists.)
Stand alone blogs can generate tremendous profits; they don't need to be part of a bigger business selling products or services.
To learn more about blogs and how your business could benefit, contact Premium Web Design and Hosting today.
Would you like a Free Guide on Guest Blogging? Guest Blogging is a great way to increase traffic to your website even if you don't have a blog of your own.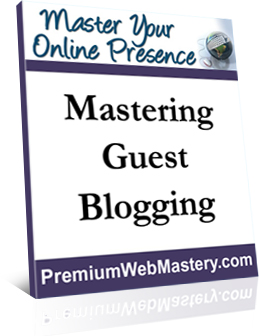 Complete the form below:

To your success!
Glennette Goodbread, Owner
Premium Web Design and Hosting
This post is part of the 30 Day Blogger Challenge and the Ultimate Blog Challenge.
Local SEO for Multi-Location Providers