Is Small Business Branding still important? Nowadays, it's easier than ever to put a website online. You can use WordPress and there are lots of themes that can be used. It's important to remember, however, that you still need to brand your business. One way to do that is to have custom graphics designed for your website.
Get your custom graphics package designed for just $200.
NOTE: Be specific when you contact me. One revision per graphic is included. Additional revisions are $10 each.
The package includes:
Logo Design (up to 3 revisions if needed)
Header ( 1 free revision)
Facebook Avatar (1 free revision)
Twitterback ( 1 free revision)
Three social icons
Order your graphics package now.
EXAMPLES
The header at the top of this page is an example of a custom header.
Facebook avatar can be seen at http://www.facebook.com/premiumwebdesignandhosting/
Twitter background can be seen at http://www.twitter.com/premiumweb/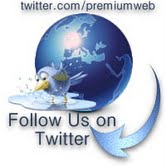 Example of custom Twitter icon
ALL THINGS WEB
Subscribe to get our latest content by email!