Who are you? What brand or image do you want to convey with your blog? Who is your audience and how will you connect with them?
These are all important questions that have a direct effect on your blog's ultimate success. Readers want to connect with a real person, someone they can relate to, admire, learn from, respect and of course buy from – you!
In order to effectively build a loyal following and to create a blog that's successful, and profitable, you need to remember one very important thing – you are the essence of your blog.
Here's How to Put You Into Your Blog
Write conversationally. Write like you speak. When you're explaining something to someone your personality, your metaphors, sense of humor and your understanding of the subject comes through in the language you use.
It's the single best way to put you into your blog. When you're speaking you tell stories, do the same thing when you write. If you have a story that relates to the information you're delivering, share it.
And don't edit yourself, at least not until the entire post has been written. Then you can go back and tweak it here and there. Editing as we go tends to quiet your personality.
Smaller elements like photos, contact information and an about page are all great elements to put YOU into your blog, as well. However, your communications, your PASSION for your topic and for communicating with your readers will stand out far and above these other elements.
Consistently be your genuine self and your readers will quickly learn who you are and what you're about. To learn more about the essential elements required for creating a profitable blog, contact Premium Web Design and Hosting today.
Would you like a Free Guide on Guest Blogging? Guest Blogging is a great way to increase traffic to your website even if you don't have a blog of your own.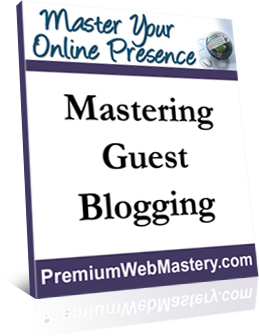 Complete the form below:

To your success!
Glennette Goodbread, Owner
Premium Web Design and Hosting
This post is part of the 30 Day Blogger Challenge and the Ultimate Blog Challenge.
ALL THINGS WEB
Subscribe to get our latest content by email!