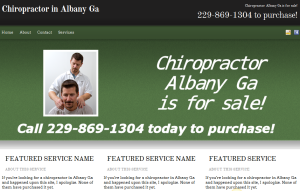 ChiropractorAlbanyGa.com is now for sale!
This website is ideal for a chiropractor located in the Albany Ga area. The domain is keyword-rich meaning it includes keywords and will be easier to rank high in the search engines. You can always purchase drwhatever.com and point it to the keyword-rich domain name if you prefer to give out a different domain name.
This website will be sold first come first serve and we are contacting chiropractors in the area so you need to buy it before your competitor does.
Please call 229-869-1304 to purchase. I will meet with you to gather your information so that I can customize it to your practice.
Glennette Goodbread, Owner
Premium Web Design and Hosting
ALL THINGS WEB
Subscribe to get our latest content by email!